The Sea collection features an organic set produced in stoneware, with plates, bowls, platters, mugs and cups, ideal for domestic use.
Colorful and Modern Pieces
This timeless and complete collection isn't only for daily use, but it's also a set that brings friends together. This happens due to its manufacture and its multifunctionality, being able to go to the oven, microwave and the washing machine.
The magicians of the subject, the artisans decorate themselves by hand with incomparable colors that give a certain joy in the kitchen. In addition to its quality, it's a fun and modern tableware that allows itself to stand out in a meal. So, gather your friends over for dinner and share these beautiful pieces, but of course carefully!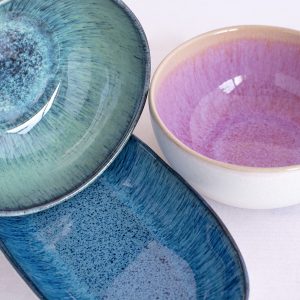 Resistant, durable and sustainable
The use of stoneware leads to impermeable products with high hardness and resistance, as a result of being a more plastic paste that withstands very high temperatures. These two factors turn out to be two great advantages for this set of products, due to allowing the use of the oven and the freezer, giving more usage options for those who use. Furthermore, these pieces are sustainable and reusable, thus helping the environment.
It's in the production process that the tableware has organic reactions, for both color and texture, making the piece unique. Therefore, they are wonderful as daily tableware, as well as for decorative purposes.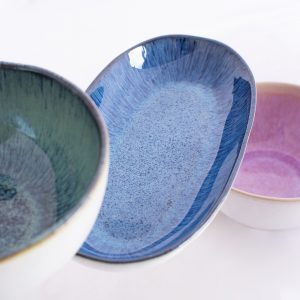 Portugal is the influence and inspiration, the sea is an essential piece for this collection. The blue and the green that refer to the deep color of the water and the pink to the corals. In portuguese culture, the sea is very present, from food, wine and also tourist destinations. This collection breathes Portugal.
The fact that it is made in Portugal and produced by portuguese artisans allows a greater affection for this collection. This allows opening doors to new trends, but also collaborating with Portugal's roots.
Discover the various pieces of stoneware from the Collection Mar and add a touch of joy to your meals!