The glass-blowing technique is an art, with guarded secrets that are in the possession of few artisans. It requires a lot of movement and timing is crucial.
It all starts with the combination of raw materials: sand, soda limestone (sodium carbonate) and alumina (aluminum oxide), which when taken to high temperatures, around 1200º, turns into a transparent liquid. This is the casting process.
The artisan glassmaker harvests the molten glass in the oven with a metal tube called the "glassmaker's reed" that has to be in permanent rotation and through which the material blows and shapes. The act of blowing – inflation, is the expansion of a molten glass bubble by introducing a small amount of air into it.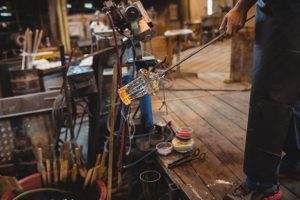 In Portugal, the production of artistic glass was transferred to Marinha Grande by order of the Marquis of Pombal, due to the abundance of raw materials in the region.
There are many ways to apply patterns and colors to blown glass, including powdered melted glass or larger pieces of colored glass. 
Companhia Atlântica's Verso glasses have color accents, originated by the addition of colored glass chips that are fused with the clear glass. This manual production technique gives rise to unique and differentiated pieces.
Discover the Verso collection! Available in sets of 2 or 6 units, in blue, green and gray colors.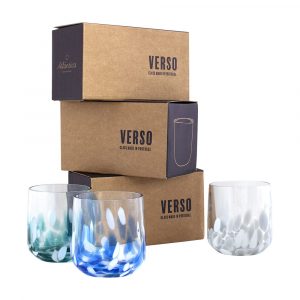 https://companhiaatlantica.pt/en/product/water-tumbler-becher-30cl-verso-glass-color-set-of-2/
https://companhiaatlantica.pt/en/product/water-tumbler-becher-30cl-verso-glass-color-set-of-6/