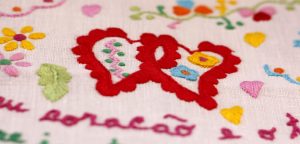 The Valentine's Handkerchief or Handkerchief of Requests, is a traditional handicraft piece from the Minho area, dating back to the 17th and 18th century.
This piece, made from a fine linen or cotton cloth, was embroidered with various motifs and colors. Initially, they were embroidered with cross stitch with the colors black and red. Over time, other techniques were adopted that were faster and easier to embroider and with more varied colors.
Girls of marriageable age embroidered handkerchiefs with verses and drawings to deliver to their departing lover. Men left to earn a living elsewhere, to war or to embark on ships on the adventure of expansion. When it was time to say goodbye, the girl in love gave her handkerchief to her lover, like an indestructible love letter.
The handkerchief, composed of quatrains and symbols, was often misspelled due to the poor literacy of the population at that time.
The tradition remained, and when single girls liked a boy, they offered him an embroidered scarf. If the boy wore it in public, over his coat, around his neck, on the brim of his hat or even on the end of the stick he used to carry with him, it showed that he had started the courtship. If the boy was not interested, he would return the handkerchief to the girl.
This scarf was a kind of engagement ring, which was offered by the woman!
Barco que vais para o mar
deixas no cais a saudade
de quem quer sempre lembrar
teu abraço de amizade.
Boat going to the sea
you leave the longing on the pier
who you always want to remember
your hug of friendship.
Companhia Atlântica was inspired by valentine's' handkerchiefs to create an apron, a table top and an oven mitt, all 100% cotton.
https://companhiaatlantica.pt/en/product/azulejo-apron-cotton-valentine-scarve/
https://companhiaatlantica.pt/en/product/azulejo-placemat-cotton-valentine-scarf-set-of-2/
https://companhiaatlantica.pt/en/product/oven-glove-azulejo/